Campaign Overview
RESEARCH VESSEL HERACLITUS, the research ship built by the Institute of Ecotechnics in 1975, is an 82 foot, chinese junk design with a ferrocement hull. It has sailed the world's oceans for over forty years, traveling more than 270,000 nautical miles in every sea except the Arctic.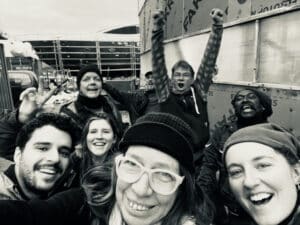 The ship is in the last phase of a complete rebuild. Docked in Rosés, Spain, the new ferrocement hull has been completed and now needs to be painted and then moved to a new part of the dock for the finish. All the funds raised in this campaign go directly to the Heraclitus project.
Thank you for your help to fund the rebuild of this legendary ship and get her back into the oceans where she can continue to sail to new cultures, map and monitor the health of our seas, and educate a new generation of Sea People.
To get involved or discuss sponsorship, please contact Expedition Chief Christine Handte, here.
All donations received are tax deductible.