Jack Burton acquires Birdwood Downs Station to develop and demonstrate new methods for sustainable pasture management
Derby, West Australia – Birdwood Downs Station (4500 acres) was developed in 1978 by the Institute of Ecotechnics as a pastoral enrichment demonstration project. Under the vision and leadership of Robyn Tredwell, John Allen and Mark Nelson, improved pasture was developed on the property to prove the productive capacity of the savannah grasslands. This evolved over time to maintain a small herd of cattle, horses for the Kimberley School of Horsemanship and to support the production of hay and seeds.
With the recent developments of the tropical pastoral industry the Institute of Ecotechnics and Birdwood Downs Partners are pleased to announce the transfer of ownership of Birdwood D
owns Station to Jack and Vicki Burton from Kilto Station who will expand the original vision to a larger, commercially viable scale.
The property will be managed by Northern Pastoral Management (NPM), established by the Burtons in 2018 to develop co-management and joint-venture opportunities across the Kimberley. In 2019, NPM partnered with MG Corporation in Kununurra and had a very successful first muster in 2020. NPM now also holds a sub-lease on Carson River Station at Kalumburu which offers Traditional Owners innovative equity options in the operating entity over time.
Birdwood Downs will be the home of several innovative projects, some of which were presented at the Kimberley Economic Forum in Derby in September 2019. Jack and his crew plan to develop and demonstrate a sustainable pasture management model on a commercial and profitable scale, which at the same time will include carbon sequestration to contribute to the control of climate change.
The projects will look at the impact of invasive woody weeds on groundwater recharge on Pindan soils. Anecdotal evidence suggests the re-establishment of the grasslands could see more than 3 million litres per hectare recharged into groundwater storages. That could equate to an addition 5 GL of additional recharge to the groundwater.
The property will also see agronomic trials of a new phosphate product being developed from a deposit owned by the Burtons near Willare. The phosphate deposit, which is being developed in partnership with Traditional Owners, aims to determine the potential for a local organic fertilizer product for the Kimberley.
We want to thank the hundreds of individuals from Derby and environs who we have come to know and share unforgettable experiences with since we embarked on this adventure back in 1978. We wish Jack and Vickie the best in their future endeavors. We will continue to harvest the history of this place and share more stories with our friends and colleagues of those memorable decades on this pastoral jewel of the Kimberley.
The Birdwood Downs Partners – John Allen, Mark Nelson, Deborah Parrish Snyder & Project Director, Hans Leenaarts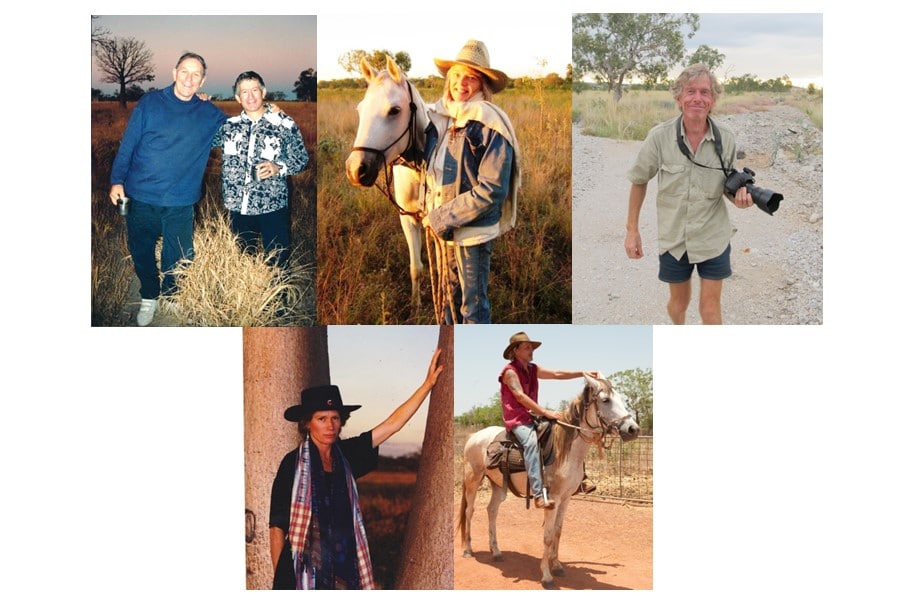 With a salute to Robyn Tredwell (above left), and Greg Hay (above right) for their leadership of the project over the years. RIP.
Listen to Mark and Deborah's interview with Vanessa Mills on Kimberley Breakfast: Kimberley Breakfast Interview