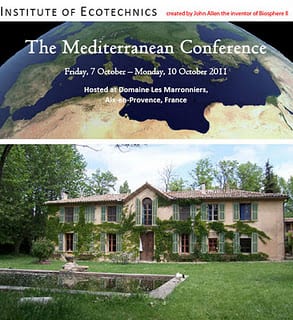 The first in a series of podcasts of talks from the Mediterranean conference in October 2011. Other talks will be uploaded soon!
Captain Rip Hayman reviewed some five thousand years of maritime history of the Mediterranean. Quoting Homer, "the seas connect, but the land divides", he reviewed some of the recurring cycles of trade, piracy, war and conquest in the Mediterranean. And here is a link for a summary of his talk: Talk Summary
Antonino Saggio takes us along on his mind-expanding magical mystery tour, from the Etruscans to the emerging outlines of a new artistic sensibility. Taking Italy as his microcosmos he decoded three types of imprinting, from the light and shadow of the elevated Greek south to the Roman abstract, military grid of the North and the Etruscan organic earthiness of central Italy.
"Maritime History of the Mediterranean"
Captain Richard (Rip) Hayman, Master mariner, maritime historian, composer,performance artist, journalist. Maritime lecturer for Cunard, Regent and Seabourn Cruises, navigator, director of marine propulsion engineering project, and skipper of the Klang II, a 1924 English 54′ yawl. In addition, he is co-proprietor of the Ear Inn, the oldest sailor's pub in Manhattan,and publisher and editor of the renowned Ear Magazine, which was influential in the worldwide avant garde music and performance movement of the 80's and 90's.
"Inspirations from the Mediterranean"
Antonino Saggio, Architect, Associate Professor of Architectural design at
the University of Rome La Sapienza, founder of the research group
Nitrosaggio.net which operates transdisciplinarily in the relationships
between Design and Information Technology, founded and edits the book series
"IT Revolution in Architecture." His books include Architettura e Modernità,
Dal Bauhaus Alla Rivoluzione Informatica, Frank O. Gehry Architetture
Residuali, Using Goals in Design, Frank O. Gehry Architetture
Residuali, Using Goals in Design, Roma a_Venire, The IT Revolution
in Architecture Thoughts in a Paradigm Shift.